Santa Madre Energy Gummies
In this article: review and opinion of Santa Madre's energy gummies.
Santa Madre energy gummies come in several formats, from individual versions to bags with 15 units. They also have 3 different types of formulations: to take before the activity, during and to recover after. In all cases, its base is agar-agar, a powerful seaweed with multiple benefits, both in terms of performance and recovery. It is fat free, it is a 100% vegan product, lactose free and gluten free.
After testing their gels, which are giving us such good results, we wanted to have a new product from the guys from Elche (Alicante, Spain) on the blog.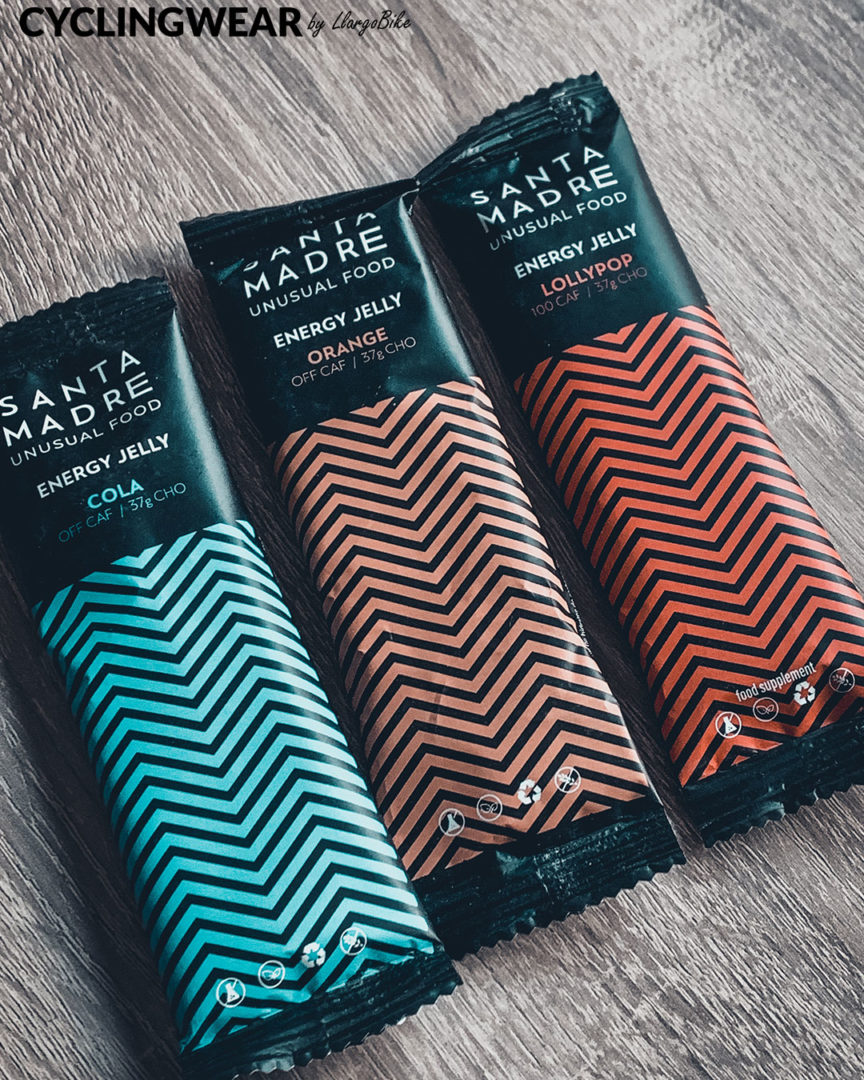 Unusual Food
Santa Madre has broken into the energy nutrition market very strongly. With a novel and innovative proposal, with everything that these words entail and in a market as saturated as the one in which they operate. From the moment we took the first look at their product range, we immediately realized that this was not the usual, here was «something else». And it is that both design and formulation are groundbreaking.
Speaking with Alfonso Beltrá, CEO of Santa Madre, he makes it very clear to us the fundamental pillars on which his products are based:
A clear packaging design that facilitates your choice, your consumption and the sum of portions.
Created using functional, safe and healthy foods for the body.
They increase sports performance and recovery in a healthy way.
Respecting the environment, using resources responsibly.
You get it? Let's go over their energy gummies in detail.
Pack of 3 gummies
This is the first format we have tried and it is also the most common. A pack similar to a bar but containing 3 individual gummies with a total weight of 45g. There are 2 flavors without caffeine (Orange and Cola) and one with (Lollypop). All provide a total of 37g of CHO and in the case of the caffeinated version, 100mg (equivalent to a strong coffee) of this proven performance compound.
Its flavor is very good and the texture is pleasant and easy to dissolve in the mouth. Of course, we recommend taking them standing up because opening the package and taking them out is more complicated than with a gel. They are ideal to take in a small stop or rest during the route.
Bag of 15 gummies
In these 225 g bags come 15 energy gummies of 15 g. There are also 3 versions labeled 1, 2 and 3. The first one has 100 mg of caffeine per unit and is ideal to activate us before physical activity. The second would be indicated to take during and the third for after, with a large amount of amino acids (BCAA) that will help us recover muscle fibers and with mineral salts and vitamins to replace lost nutrients.
All bags include a smaller portable one, with quick closure, so that we can take with us the amount of gummies that we want:
Finally, also comment that it is possible to buy the different versions of gummies in individual packs:
Pack of gummies 1+2+3
It is a small bag that includes a gummy for before the effort, another for during and another for after. It is a perfect pack for short intense training outings, as it allows us to go out with intensity thanks to the caffeine, maintain it and then begin to recover quickly as soon as the last interval is over.
Final Verdict
Estas gominolas de Santa Madre son un gran producto. Primero por su buen sabor y agradable textura, segundo por tener una gama bien estructurada y con muchos packs disponibles para adaptarse a nuestras necesidades, tercero por el gran rendimiento que producen.
Going deeper into the product, we like that the grams of carbohydrates are high, their sources are very varied and the ingredients that make them up are healthy, safe and wholesome. Finally, they are a good way to vary more the food that we eat on the road, sometimes if we abuse the gels a lot, we need to eat something with more consistency.
Good ride!
Any question? Find me on Instagram: @llargobike
Latest Reviews